Post by David Sechrest on Feb 18, 2014 13:45:45 GMT -5
1905 is proving to be a pretty interesting year in Columbus history. Mayor Patrick H. McCormack, democrat, took office May 3, 1904. One year later, a big brouhaha erupted with his announcement that he had the power to hire and fire city employees. "As you are aware, we are now operating under the new law which makes this mayor the executive officer of the city and gives him certain powers and duties. The mayor is made responsible for numerous things and I wish to say that I have assumed this responsibility. Hereafter, if any city official or employee does not do his full duty and devote his time to the office for which he was either elected or appointed, he will have to account to me."
As Mayor McCormack understood the law, he could fire any city official who held their offices through appointment by the Mayor or the City Council.
As you can imagine, this did not sit well with the City Council.
In April, 1905, three items of note were taking place.
First, Indiana's Anti-Cigarette Law. The law took effect, Saturday, April 13, 1905. It caught all Columbus merchants by surprise, as they had expected nothing would be done until May. Marshal Horton spent that Saturday afternoon personally notifying every merchant that sold tobacco products of the new law. George Ellis boxed up his entire stock of cigarettes and destroyed all rolling papers. The St. Denis Hotel Cigar Shop had 5,000 cigarettes on hand. The owner boxed them up for return to the factory, and burned all rolling papers in his possession. By late Saturday afternoon, there was no legal outlet available to purchase cigarettes anywhere in Columbus. Initially, Marshal Horton said he was unclear on the law, and before he made any arrests, he needed counsel on the matter. Days later, he announced if he caught anyone smoking, that person would be arrested.
Also, all druggists in the city were notified that they could no longer sell morphine, opium, or cocaine to users without a prescription.
Two other noteworthy events were shaping up: The location for the new Southeastern Hospital for the Insane (what some here will remember as the Muskatatuck State Hospital. Today, it's the Muscatatuck Urban Training Complex (MUTC)). Several Indiana towns were campaigning vigorously to have the hospital located in their city, and Columbus officials were working feverishly to get the hospital located here.
Then, on April 22, 1905, a shipment of parts for a corn planter were delivered to George Caldwell. A room in 327 Washington Street (next door to Zaharako's) was rented. By April 27, the balance of the parts were received and assembly of the corn planter began. Once the machine was assembled, it was put on public display.
The night before the balance of the parts arrived, C. G. Janney and his son arrived in Columbus.
Weeks prior to the delivery and arrival of the Janney's, Columbus capitalists began a "stock drive" in the hopes of raising $100,000 in order to secure the location of the Janney Manufacturing Company in Columbus.
"There has been a movement on foot in Columbus for the past two months, looking forward to locating a factory in our city, manufacturing a standard line of farm machinery. To secure this plant and locate the same in Columbus means a good deal for the future of our city. We are asked to take some preferred stock in the company, and we shall be pleased to call upon you in the near future to present the matter in full and we shall hope to have your help." — Signed, C. Martin Keller, Louis J. Lehman & Herman L. Rost, Committee
By April 28, 1905, nine Columbus men had subscribed for the amount of $37,000 worth of preferred stock. By May 18, 1905, the $100,000 was raised. The Evening Republican newspaper stated it was the greatest fight for a factory ever made in Columbus. Immediately, Janney began plans for both the factory, and his residence. He intended on having a home built in the colonial style at 17th and Central. Work on the factory buildings began in June, 1905.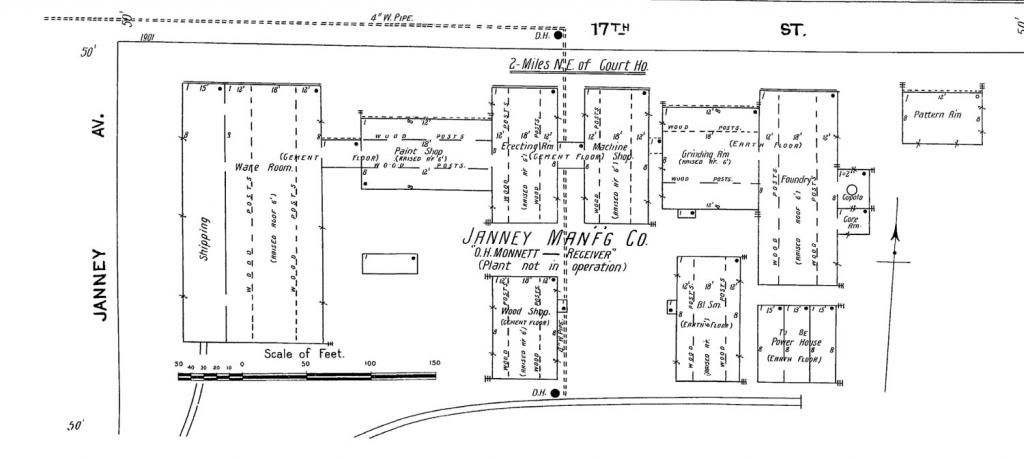 Sanborn map, 1906
June, 1905 is as far as I've gotten thus far in this story. At some point, Janney Avenue was changed to Pennsylvania Street, and by the 1950s, the old Janney Manufacturing site was Arvin Industries.
The Janney Manufacturing Company wasn't around very long. The 1912 Sanborn map shows the above area as the Caldwell Manufacturing Company. The street name, Janney, had already been changed to Pennsylvania.